Andreas Iniesta Match Worn F.C Barcelona La Liga Shirt 2017 – 2018 Season
AMAZING AND RARE ANDREAS INIESTA F.C BARCELONA MATCH SHIRT
WORN DURING THE LA LIGA FIXTURE V REAL MADRID ON THE 6TH OF MAY 2018
VERY RARE SHIRT AS THIS WAS THE LAST EL CLASSICO MATCH INIESTA EVER PLAYED FOR THE CLUB AND RECEIVED A STANDING OVATION WHEN HE WAS SUBSTITUTED IN THE SECOND HALF IN HIS 38TH AND FINAL EL CLASSICO
THE MATCH WAS PLAYED AT THE NOU CAMP ON THE 6TH OF MAY 2018 WITH THE MATCH FINISHING 2-2 WITH GOALS FROM LUIS SUAREZ IN THE 10TH MINUTE AND LIONEL MESSI IN THE 52ND
ANDREAS INIESTA IS REGARDED AS ONE OF IF NOT THE BEST MIDFIELDERS EVER TO PLAY THE GAME WITH THE F.C BARCELONA CAPTAIN WINNING A INCREDIBLE 35 TROPHIES DURING HIS PLAYING CAREER INC THE WORLD CUP AND CHAMPIONS LEAGUE ON MORE THAN ONE OCCASION
SHIRT HAS ALL THE CORRECT LABELS AND TAGS THROUGHOUT WHICH IS DIFFERENT TO THAT OF THE RETAIL VERSION
1. Sized appropriately for Iniesta, size M.
2. Wash labels printed directly onto fabric of interior of garment.
3. Iniesta's name & squad number to back of garment. Unique thermal application.
5. La Liga League competition logo and Eat Like a Pro logo to the sleeve which was only used for this
match . Unique thermal/felt application.
6. Appropriate Nike identifiers throughout.
7. Additional details apply.
MUSUEM QUALITY ITEM FROM THE F.C BARCELONA STAR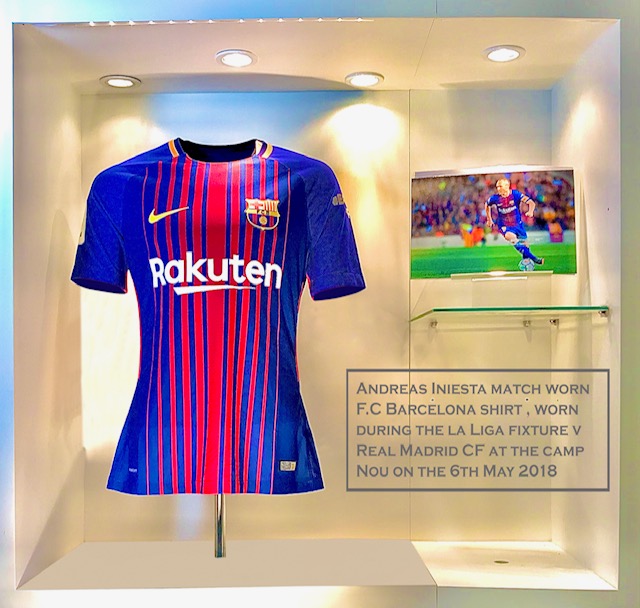 Price :
£

4,994.99
in Stock
Andreas Iniesta
Match Worn Shirt
F.C Barcelona
v
Real Madrid
6th of May 2018
Nou Camp
Barcelona